2017 Celebration of Faith
A Letter from the Board of Trustees
Dear Supporter of Catholic Education,
It was a joy to honor the 2017 Champions of Catholic Education and to announce that the 2016 Celebration of Faith provided $200,000 in funding support for Catholic education in our parishes and schools. That funding included:
$147,000 in tuition assistance for 148 youth (regardless of faith) to attend Catholic schools,

 $6,000 for 3 scholarships to Catholic colleges,

$37,000 in funding for 19 religious education programs and training for Catechists.

$10,000 for regional training and support for Catechists in the spring and summer of 2018.
We are pleased to announce that thus far we are in a position to provide $125,000 in support of these faith education grants, but we need your help. We fell short of our goal and need an additional $75,000 just to match last year's giving.

Throughout Central Washington, children are hungry for direction, community, and hope. They need Faith – and you and us can help. The solution to passing on the faith can only be found by working together, lifting up our children in need. It is not too late. Please, take a few minutes to consider if you might be able to make a gift to share the faith, to open the doors to Christ. Young members of our community are looking for a reason to hope. By investing in faith education, you can change the story they hear from one that is hopeless to one that says they are beloved by God.

Please donate now or mail your gift to 5301 Tieton Drive, Yakima, WA 98908. A monthly pledge, gift of a stock transfer, or a charitable gift from your IRA can help increase your ability to give. Please call our office at 509-972- 3732, if you have questions or would like to make a gift over the phone.

What gift does God want you to make today? 100% of your gift will provide direct support for faith education and is fully tax-deductible.
Blessings in Christ,
Ann Sonn
President, Board of Trustees
This year,
$200,000 in funding has been provided to support:
tuition assistance for low income children (regardless of faith) to attend Catholic school

training for parish religious educators

support for parish religious education programs

scholarships for students to attend Catholic colleges

initiative funding for regional Catechist training and support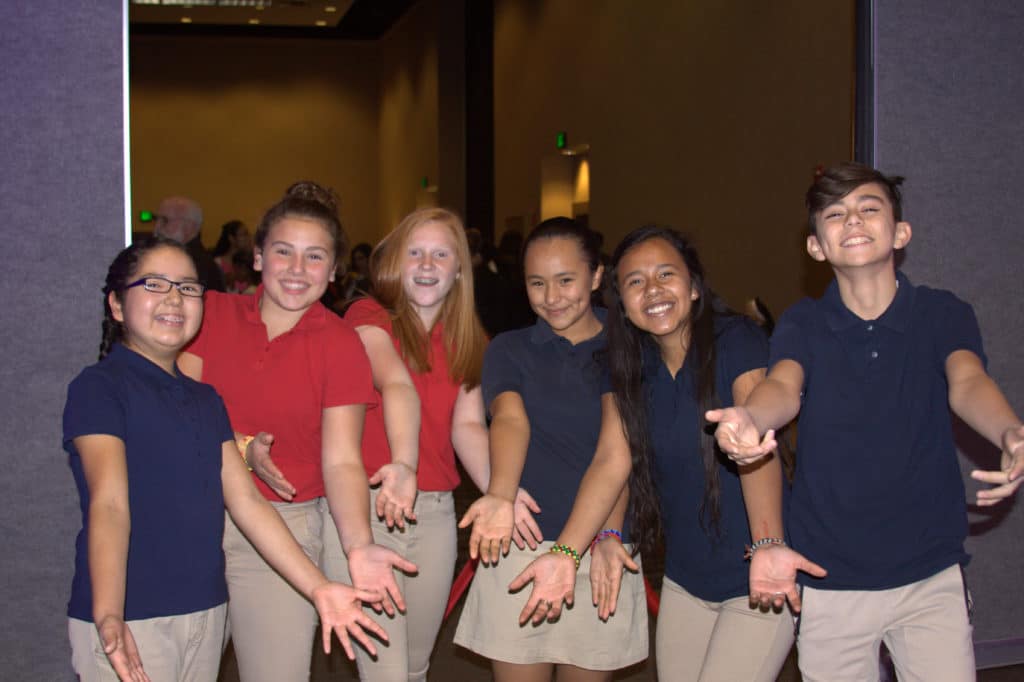 Keynote Speaker - Keynote Address
Founder of Homeboy Industries, the worlds largest gang intervention program in the world.
"Catholic Schools are not the places our kids go to. They are the place our kids go from - to change the world."
These are not just schools our kids go to they are the places they will eventually go from, so that they can live as though the truth were true and they can put first things recognizably first. They can take seriously what Jesus took seriously. He took four things seriously: Inclusion, Nonviolence, Unconditional compassionate loving kindness, and acceptance. This is huge. This is powerful.
Our catholic schools are not the places our kids go to, they are the places they go from. And they try to imitate the kind of god we have. The god who loves us without measure and without regret. We do not want them to settle for a partial god but for a spacious, expansive god.
Champion of Catholic Education - Special Honoree
Lynn Stecker of St. Rose of Lima Parish shares, "Father Kerr's love and passion for Catholic education was instilled in him from a young age in his native Ireland.  He faithfully prays for Catholic education and been a positive role model thoughout his 57 years as a priest in the Diocese of Yakima.  He has been a champion of Catholic education working tirelessly to ensure all those who desire a Catholic education can receive one.  His desire that children be exposed to the Catholic faith daily and to its value system so it can forever be a part of their lives has been a blessing to many."
Executive Director - The Catholic Foundation Today
We come together as supporters and believers in this outstanding legacy of Catholic education.  Your financial gift will mean that the doors to our schools will open wider to invite families in that would not otherwise be able to afford a Catholic education. It will mean that parishes that face limited budgets will not have to take shortcuts as they work towards building an engaging ministry for their youth. It will mean that individuals willing to commit themselves to leading our children in learning about the faith will be properly prepared.
Let's help our children learn to walk with the Lord as their guide. Let's help them form their moral compass with Jesus and not with the world.
President of Kennedy Catholic High School - The Invitation
When I was asked to speak, I went to the Central Washington Catholic Foundation website to do some research and immediately saw the very words from Proverbs that should prompt us all to action:  Train up a child in the way he should go and even when he is old, he will not depart from it.  I love this verse because so much is riding on our influence and those teaching our children in and out of the classroom.
There are amazing stories in this room; some spectacular and life changing.  You must connect your experiences with the financial support necessary to eliminate the what if's, the fear of the bottom line and give generously, beyond what you planned . . . the future of the Church in Central Washington is in your hands. Join me in honoring those who have had an impact on your spiritual formation.
Thank You To Our Partners!