2017 Celebration of Faith
Saturday, October 7, 2017
6PM Reception  -  7PM Dinner
Yakima Convention Center
10 N 8th St, Yakima, WA 98901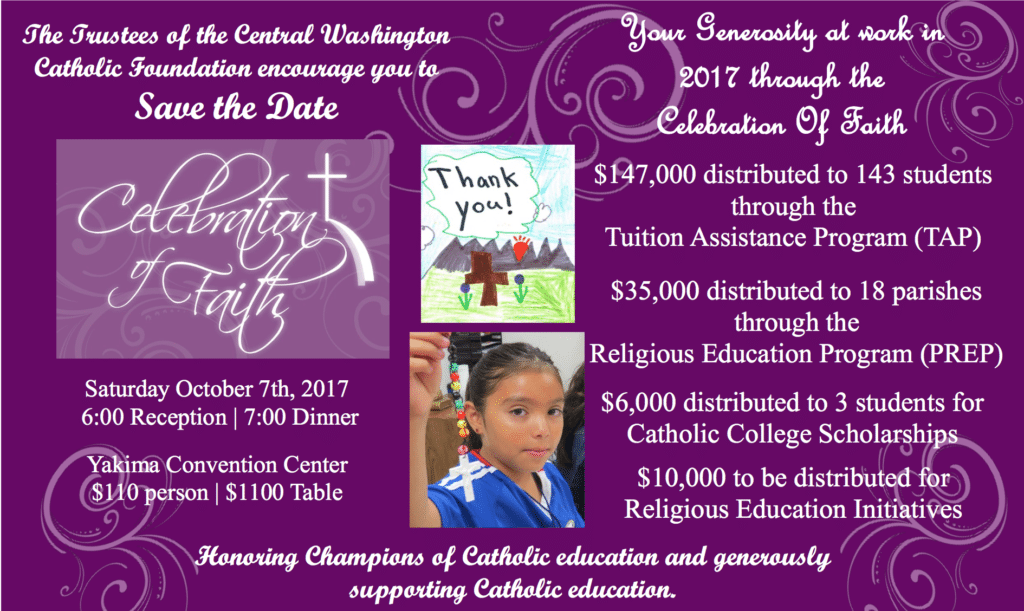 The Central Washington Catholic Foundation is proud to announce that Fr. Seamus Kerr has been selected to be the 2017 Champion of Catholic Education Special Honoree.
Fr Kerr's love and passion for Catholic education was instilled in him at a young age in his native Ireland. He was ordained to serve the Diocese of Yakima in 1960, leaving for the United States shortly after becoming a priest. Today, he faithfully prays for Catholic education and has been a positive role model throughout his 57 years as a priest. Fr. Kerr has been a champion of Catholic education throughout his many years as a priest, working tirelessly to ensure all those who desire a Catholic education can receive one.  His desire for children to be exposed to the Catholic faith daily and to its value system, to where it becomes a part of their lives, has been a blessing to many.
According to Lynn Stecker, long time secretary for St. Rose of Lima Parish, "Fr. Kerr loves the kids, the Mass, Mary, and Ireland and he has passed a love for all of them on to the children." She says, "No one really knows the extent of what he has done to uplift Catholic education." Stecker says that, "At 88 he still fills in wherever he can. His faith is strong. He is consistent, humble, and down to Earth."
Stecker remembers how families would come to the parish office expressing that they simply could not afford the tuition to send their kids to Catholic school. She remembers how Fr. Kerr always encouraged them to go ahead and send their children whether or not they could afford it. His position was that everyone should pay what he or she can now and then pay it forward later when they are able. He would say, "Think of the assistance you receive as a loan. When your kids are out of school, you can help another family send their children to school."
Lynn believes it was Msgr. McDonnell, the founding pastor of St. Rose School, that lit a fire in Fr. Kerr for supporting Catholic schools.  She said the attendance at St. Rose School was very low when Fr. Kerr arrived. Soon after being named pastor, he went to visit Msgr. McDonnell who was in assisted living. McDonnell implored Fr. Kerr to do everything he could to avoid closing the school.
From that time on, Stecker and Fr. Kerr worked as a team to build up the school. Together they started a fund asking families to sponsor a St. Rose student and instituted what has become one of the largest fundraisers. The fund has since been renamed the Fr. Kerr Scholarship Fund. Stecker says that, "Fr. Kerr still comes back to support the auction. Each year he will stand up and say, 'Okay, we need $50,000 tonight.' And every year, the people pull through."
Rev. Gregory J. Boyle, S.J.
The Rev. Gregory J. Boyle, S.J., is the founder of Homeboy Industries in Los Angeles, Calif. From 1986 to 1992, Father Boyle served as pastor of Dolores Mission Church, then the poorest Catholic parish in Los Angeles, located between two large public housing projects with the highest concentration of gang activity in the city.  He witnessed the devastating impact of gang violence on his community during what he has called "the decade of death" that began in the late 1980s. In the face of law enforcement tactics and criminal justice policies of suppression and mass incarceration as the means to end gang violence, Father Boyle and parish and community members adopted what was a radical approach at the time: treat gang members as human beings. By 1988, they started what would eventually become Homeboy Industries, now the largest gang intervention, rehabilitation, and re-entry program in the world.  Homeboy employs and trains former gang members in a range of social enterprises, as well as provides critical services to 10,000 men and women who walk through its doors every year seeking a better life. Father Boyle is the author of the 2010 New York Times-bestseller Tattoos on the Heart: The Power of Boundless Compassion. He is the subject of Academy Award-winner Freida Lee Mock's 2012 documentary, G-Dog.  He has received the California Peace Prize and been inducted into the California Hall of Fame. In 2014, the White House named Father Boyle a Champion of Change. Father Boyle is the recipient of the University of Notre Dame's 2017 Laetare Medal, the oldest and most prestigious honor given to American Catholics.