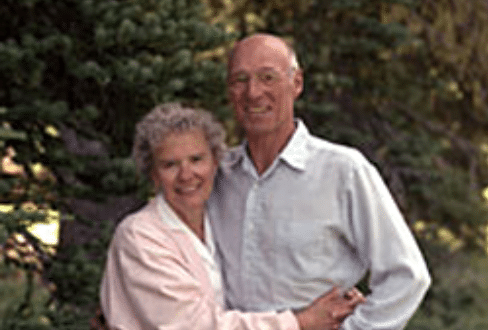 "While serving as director for the Central Washington Catholic Foundation (CWCF), I was honored to meet some of the most remarkable people in Central Washington. David R. Mahre would be high on anyone's list of remarkable people.
Dave visited my office on a regular basis until his death. Sometimes to add to his wife's named fund – the Mary Ellen Chott-Mahre Memorial Scholarship Fund – but mostly just to talk. Dave was quite a home spun philosopher with many wonderful keen insights.
We discussed the troubles facing the nation and world, the state of the American church today, the mountains he had climbed, the work he loved and the woman he cherished. It seems we would always get around to talking about his lady of the mountain and the girl he missed so much, his late wife Mary Ellen Chott-Mahre. I never had the privilege to meet Mrs. Mahre, but through Dave I have a very good idea.
You do not live with someone for 45 years and have nine kids together without knowing the person. Dave spoke a great deal about their courtship and life together. There were many struggles on the farm and early years on the mountain raising five girls and four boys.
He seemed to be the happiest when he was talking about his Mary. More than once we shared a tear over her cancer and death. One time he told me how he had bought her a house is Selah and was remodeling it until God called her home. Though he lived in the house until his own death, Dave told me that he did not have the heart to finish the house. His reason for fixing it had gone away.
His reason for living never did go away. Dave was very proud of his children and family. Family meant a great deal to him and was a large part of who he was. If I had had two sons medal at a winter Olympics, I would be obnoxious with pride. Dave was proud of all his kids, not just the overtly successful ones. He came across as having more of a strong, silent, loving pride that embarrassed all nine with equally.
The only time I have ever met all of his children at one time was at a family reunion/memorial service/mass at White Pass when I met the whole family. Dave had asked me months before to do a liturgy at his family reunion. I never thought that we would be morning his passing, too. His oldest daughter Kathee Forman was kind enough to make sure I was there.
When I first met Dave, I never would have thought of him as the great mountain climber he really was. We never had the opportunity to talk about his two attempts on Mount Everest in much depth. He preferred to tell me about learning to climb and the mountaineering he did in the state of Washington.
Using self-deprecating humor, he once recalled going out with another rescuer in a Washington blizzard searching for two stranded hikers. It was the coldest he ever felt and, just as they were about to give up and turn back, they found one of the hikers in the snow.
What I remember most about it was not his pride in saving a man's life but the sadness of not being able to find the second man, who perished in the cold. Humility is something that Jesuits and others pray for but seldom receive. Dave Mahre was truly a humble yet great man in the eyes of God.
In a bequest to the CWCF, Dave insured through a Planned Gift that the scholarship he started with his children in their mother's name would help many children in our area go to a Catholic college or university, for years to come.
You too can provide a brighter future for Catholics in Central Washington by remembering the CWCF in your estate planning. Please help!"
– Dan Fortier
Emeritus Trustee, Central Washington Catholic Foundation